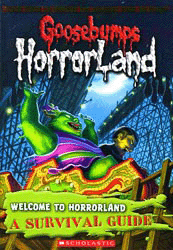 Welcome to HorrorLand: A Survival Guide is the companion book to the Goosebumps HorrorLand series. It originally came between books 12 and 13, probably serving as a marker between the two arcs.
The book really doesn't have much of a plot. Instead, the chapters are constructed in the form of a guide book, featuring things like menus and schedules. However, everything is mixed in with humor. For example, one of the spa treatments is a room full of nonstop screams blasting in your ears. It says, "What's so relaxing about this? It feels so good when you leave!"
Cover controversy
Edit
Most websites depict this cover much differently. In these false photos, the banner at the top is regular for the first arc, the ride is facing the other direction, and the green slime isn't there - instead, the WELCOME TO HORRORLAND is displayed as a regular title, with A SURVIVAL GUIDE bigger and in yellow below.
Author controversy
Edit
There is much speculation over who the real author of this book is. While it may be a series by R.L. Stine, the word Scholastic replaces his name wherever it would normally appear. This arises the question of if he even wrote the book at all.